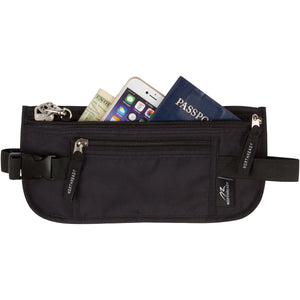 In Stock | Ships in 2-3 days | FREE SHIPPING* on this item
DURABLE, SAFE, LONG LASTING MATERIALS: Stylish and sturdy money belt with polyester peach skin material with PU coating for the front, with a soft, breathable moisture-wicking mesh backing, and all materials free of AZO dyes so you can feel both comfortable and good about it being next to your body. Durable top quality zippers open and close smoothly with each pull. Double stitching further ensures long wear.
SECURE and PROTECT WHILE TRAVELING OR IN A CROWD: You can keep it hidden, wear it under your clothes to conceal and protect your credit cards, cash, passport or other important items during travel. Plus reduce your risk for data theft with the RFID blocking lining for protecting credit cards and passport.
STAY CONFIDENT: The slim profile will not show through, will stay hidden, hence is better than a fanny pack, when with slim items inside -- like a hidden wallet. Has a two finger buckle release, to avoid accidental unlocking by a single button push, especially important for travelers in crowds.
LIGHTWEIGHT AND FITS ALL BODY TYPES: Soft stretchable elastic belt  allows comfortable fit for men and women from Extra Small to Extra Large.
 *Free shipping to the US only